Welcome to Our Wiki!
If you are new to the wiki, be sure to check out our rules.
Before editing, make sure to refer to our Editing Guide.
Don't forget to enjoy your stay!
Thank you! - Nocturnalia and DanZFLT.
---
"Which Endless Ocean 2 location is your favorite?"
Poll winners become Featured Articles of the Month.
Previous Poll Results: "What kind of dolphin is your favorite?"
1st) Orca (118 votes)
2nd) Commerson's Dolphin / Risso's Dolphin (50 votes e/a)
3rd) Narwhal (39 votes)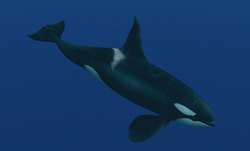 The Orca, colloquially known as the Killer Whale, is a large species of dolphin characterized by its rounded head and unique black-and-white coloration that appears in both Endless Ocean and Endless Ocean: Blue World.
About
Welcome to the Endless Ocean Wiki, started on August 3, 2008 by Loulou43! The Webmaster is currently Nocturnalia, and the current wiki design was made by DanZFLT. This Wiki is all about a series of adventure games which you take control of a scuba diver in search of sea life, sunken treasure and legendary creatures.
Please make sure to edit well and check for spelling and grammar mistakes; even the slightest fix will benefit everybody who comes in the future!
The two main pages about the games in the Endless Ocean series can be found here, for the first game, and here, for the sequel.