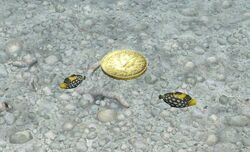 See also: Collection
Throughout Endless Ocean: Blue World, the player can discover 100 mysterious coins hidden within zoom-mode glow spots throughout all areas of the game (except the North Coast of Canada). These coins are each named after constellations or celestial objects, and many refer to traditional Greek mythology and lore.
These coins are the central focus of the Voice of the Night Sky quest, where you must find all 100 of these constellation coins to complete it. This quest serves as a large sideplot to the main gameplay of Blue World, and can be completed as the player progresses through the story.
The Coins
Coins by location
See key (right) for aide with coordinates.
There are no coins in the North Coast of Canada.
Midstream
Upstream
Page 1

Page 2

Page 3

Page 4

Page 5

Page 6

Page 7

Page 8

Page 9
Community content is available under
CC-BY-SA
unless otherwise noted.